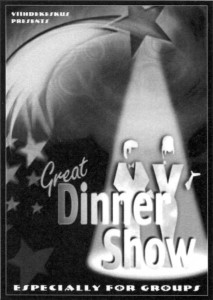 Great Dinner Show® is a trademark registered by Suomen Viihdekeskus Oy in 2002. During 1993-2002 Viihdekeskus developed its business and started to offer more and more services for companies instead of just producing events for the public. This was possible because of the good reputation gained during the years, co-operation with other companies and interest groups and good facilities with all services needed. Therefore, more research was done and examples and influences from abroad were sought. After good experiences in Finland and encouraging examples from abroad, the conclusion was made to develop this idea further and to modify it to meet the preferences and needs of Finnish audience.
The basic concept of Dinner Show:
The basic idea is of Dinner Show is to offer customers a pleasant evening and an experience that combines great entertainment and delicious food. The entertainment and menus are always connected to the theme of each evening. The show flows from the beginning to the end with each part complementing each other and that way creating a unique experience for the audience. During the show some of the staff might also be seen on the stage. Dinner Show suits especially well for different groups, such as groups celebrating birthdays, other special days or for companies Christmas parties.
Coming up!
Irwin revue – A tribute show in honour of a Finnish legend Irwin Goodman.
The show is based on Irwin's colourful career and his songs will take us through the 60's, 70's and 80's.
The revue is written and directed by Seppo Tammilehto with the assistance of Irwin Institute.